This ancient treatment with its roots in Ayurveda, works on the shoulders, neck, head and face to relax the whole being.
It helps to
Relax and tone the muscles
Stimulates the scalp
Relieves eye strain and headaches,
Improves concentration
Boost the immune system
It helps to eliminate muscular tension and restores joint movement by gently stretching and mobilising the tissues of the neck and shoulders.
The Session
The session starts with an initial consultation and filling in a health questionnaire (as there are some health conditions that are contra-indicated, meaning an Indian Head Massage isn't appropriate for you).
You will then be made comfortable on either a couch or a chair, fully clothed, only having to remove necklace and earrings.
The massage will start on the shoulders and upper back, relaxing muscles and releasing any tension in these areas.
The massage will then move to you neck and ears.
Your head and scalp will be massaged. This helps to condition the scalp and enhance blood circulation in the head. When the scalp is "tight" from stress, circulation and hair growth are impeded. It helps strengthen the roots of the hair and nourishes the hair-shafts, promoting new hair growth and strengthening existing hair.
Your face will then be massaged and lymph drainage points worked on to release toxins.
Finally, energy centres will be balanced.
The whole sessions – including time for a drink of water (essential for releasing toxins) will take approximately 60 minutes.
Cost £40 for a 60 minute session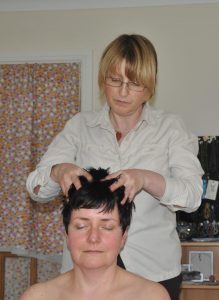 Indian Head Massage with Oil
The same treatment can be given using a nourishing oil. This can be especially beneficial for those with dry or damaged hair.
During a session where oil is used, you will need to remove clothing from the upper body. You may choose to wear a vest/camisole top to keep on, or a towelling wrap will be provided.
The oil should be left on the hair as long as possible for maximum benefit.
If you wish to have an Indian Head massage with oil, please state this when booking.
Cost £45 for a 60 minute session